Trailer
Über meine Bilder für den Film VERSCHWÖRUNG
(Originaltitel: THE GIRL IN THE SPIDER'S NET, directed by Fede Álvarez)
aus dem Amerikanischen von Claus Brunsmann
Dieser als Blockbuster konzipierte Film wurde nicht in Hollywood sondern, man höre und staune, in Berlin gedreht. Drehort einer der zentralen und zugleich verstörendsten Szenen war das Penthouse über dem Bunker der prominenten Kunstsammlung Boros.
In den letzten Jahren war ich vereinzelt an Filmproduktionen beteiligt gewesen, so war in der spektakulären in Berlin gedrehten Folge "Unser Mann in Damaskus" der US-Serie 'Homeland' das gesamte Hauptquartier des Secret-Service in Berlin mit meinen abstrakten Bildern ausgestattet. Doch diesmal gab es eine neue Herausforderung, denn ich sollte die Bilder nach den Vorstellungen der Auftraggeber konzipieren.

Das Art-Department und die Ausstattung kannten meinen Stil aus den genannten Produktionen, und da meine abstrakten Gemälde oft mit Gerhard-Richters-Arbeiten verglichen wurden (obwohl sie natürlich völlig anders sind, aber das nur nebenbei), baten sie mich, die Bilder in einem modernen, unscharfen düsteren und verwischten Stil zu malen, der zur unheilvollen und dunklen Stimmung des Filmes passte.
Das düstere Landschaftsbild, ein weites Tal wird von schwarzen Bergen umschlossen, wurde nach einem Schwarz-Weiss Foto gemalt. Vom Stil her orientierte ich mich an Richters Städte- und Landschaftsbildern der späten sechziger Jahren. Es entstand ein ganz eigenes, leeres und klaustrophobisches 'Landschaftsportrait', das sich wunderbar in die Kälte und Tristesse der ausgewählten Bunkerarchitektur einpasst.
Ähnlich ist es mit dem verblassten Hochformat, einer drei Meter Version des klassischen Mutter und Kind Genres, wobei das Lächeln auf dem Gesicht der Mutter nur noch schemenhaft erkennbar ist und das Bild die innerlichen Verwüstungen der Protagonisten wiederspiegelt; die zerstörte Oberfläche, elegant gemalt, als würde man mit dem Schwingschleifer über einen Vermeer gehen. Nur der große runde Babykopf bleibt in seiner Schönheit unversehrt.
Not a real translation:

An Introduction to the 'Spider's Web paintings'
by Claus Brunsmann
The movie "The Girl in the Spiders Web" is an American-German co-production and was filmed in Berlin. The first shocking moment (as seen in the trailer above) in which Lisbeth kidnappes the bad guy, was staged in the penthouse on top of the famous Boros Collection.
In recent years I have already lend my paintings to film productions, such as the American series 'Homeland' other german TV-productions and a commercial by Wim Wenders. This time it was something new, because I painted the pictures according to the ideas of the client.

The production company´s art buyers knew about my abilities in abstract and figurative painting, and since my paintings were sometimes compared to Gerhard Richter's work, they asked me to paint images in a modern, gloomy and blurred style that fits the ominous and dark mood of the film.
The first big painting is a landscape, an empty valley surrounded by mountains
that was inspired by a black and white photograph. Stylisticly I oriented myself on Richter's early conceptual grey photo paintings of the late sixties. Think of the famous "Duomo" or "Uncle Rudi". It created a very own empty and claustrophobic 'landscape portrait', which reflects the psyche of the rogue, which is held to account by Lisbeth in an unconventional way .
The second painting was even more complicated because it was based on a private photograph. It should, however, be greatly alienated, almost beyond recognition. It is inspired by the series of "Mother and Child" paintings from the Museum Hamburger Kunsthalle, paintings in a 19th century cabinet style, that are extremely small in size. However, the producers wanted a large picture of three meters height, wich was meant as visual counterpoint to the emptiness of the surroundings.
It took me a while to finally find the right shapes and the guts to almost obliterate the mothers face. In the end, an overwhelming, strange intimate mother and child portrait emerged in a way, that nobody had expected. That´s how my painting process is all about: discover something that is completely surprising and new to the viewer.
Many thanks to my dear friend Daniela for letting me be part of a Hollywood blockbuster production.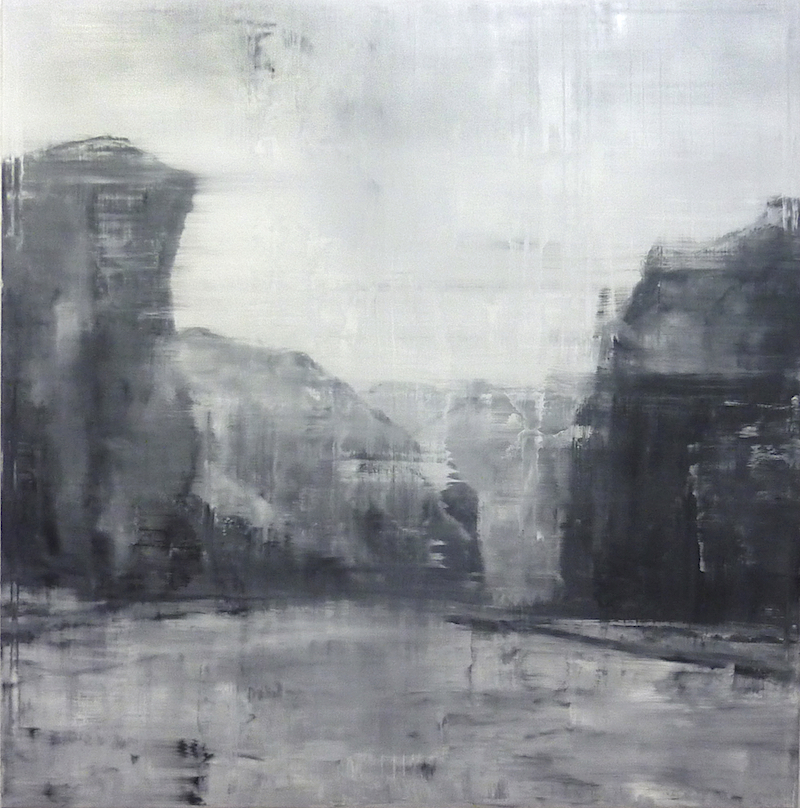 Claus Brunsmann, Schlucht, 2018, 200 x 200 cm, Öl auf Leinwand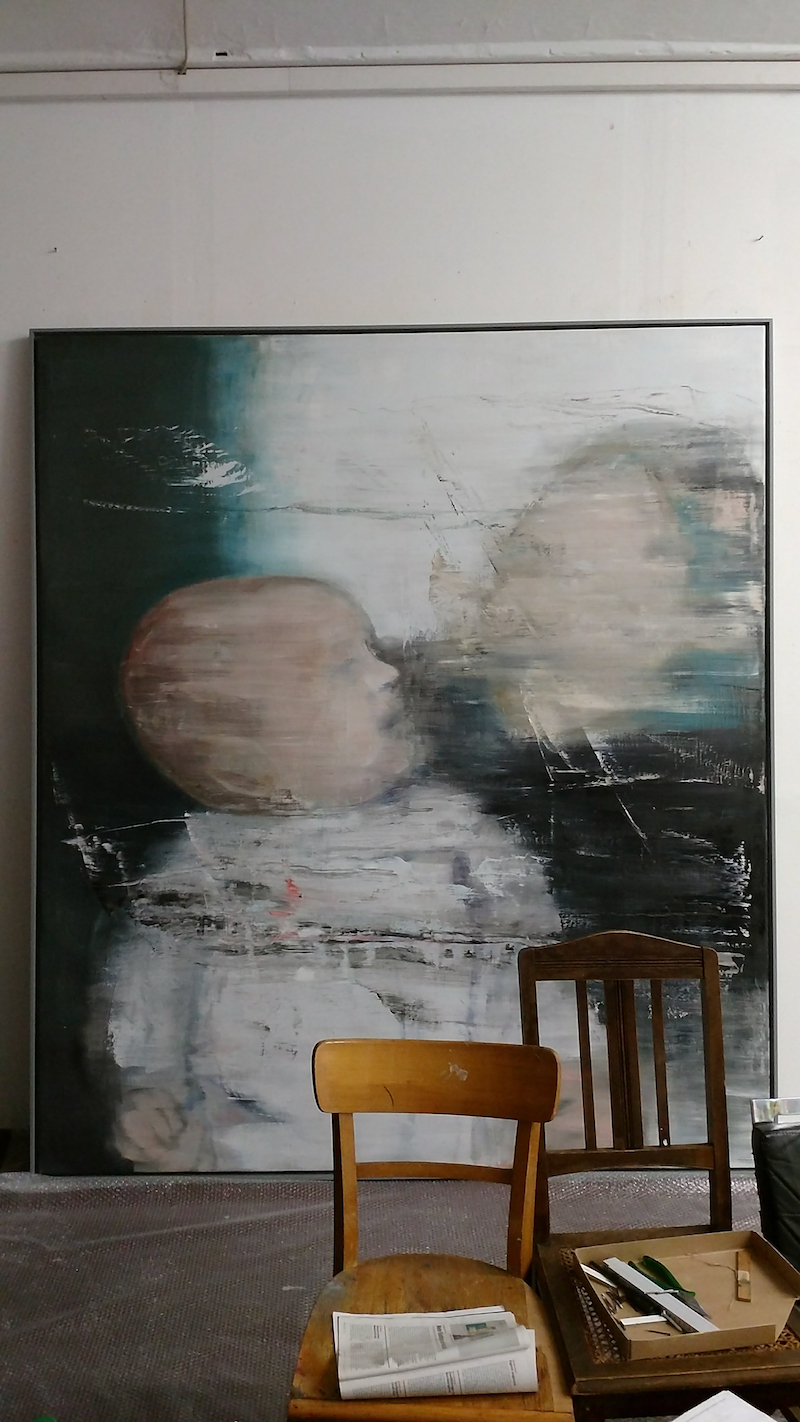 Claus Brunsmann, Mutter und Kind, 2018, 250 x 200 cm, Öl auf Leinwand
Homeland
HOMELAND SEASON 5 / EPISODE 10 +11
A group of my abstract paintings played a not insignificant role in the eleventh episode of the fifth season of the American television series Homeland, entitled "Our Man in Damascus." In the strictly shielded secret service headquarters in Berlin, capital of Germany, you will find it in the office of Saul Berenson (played by Mandy Patinkin), the head of the CIA's European operations. You see Claire Danes and Nina Hoss walking by some of my most colorful abstract works.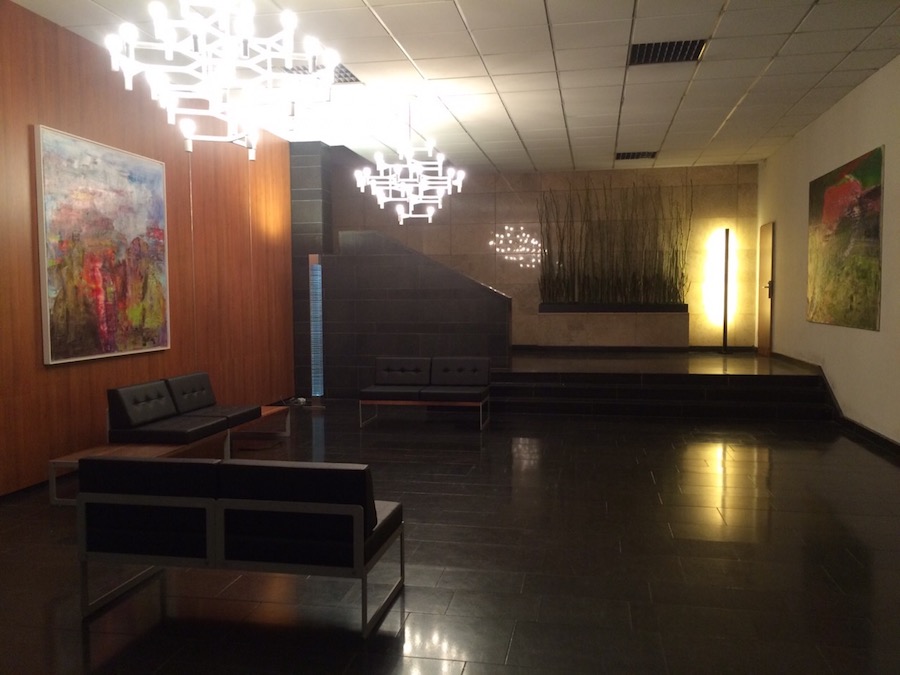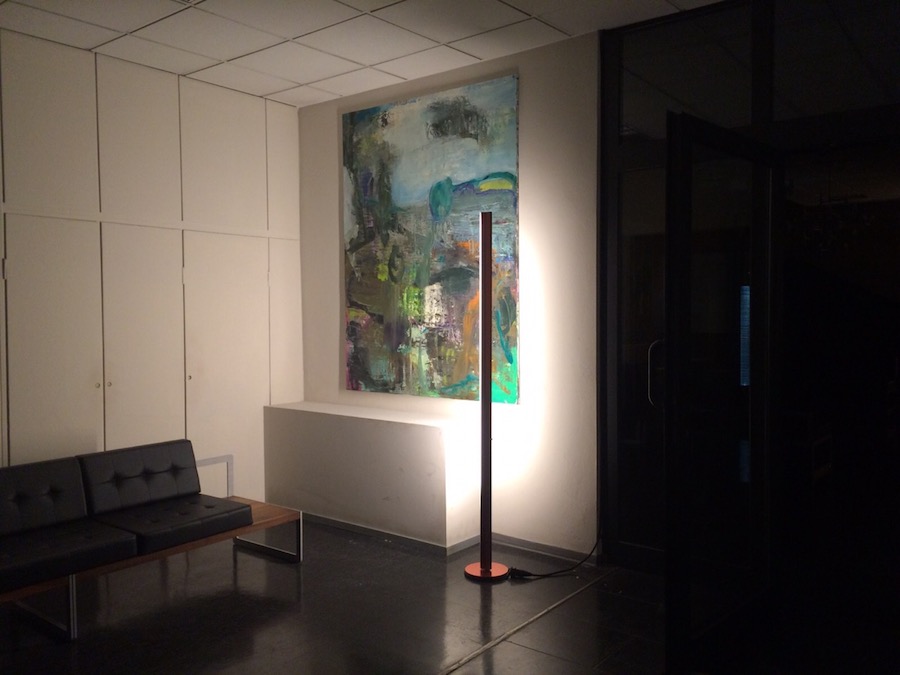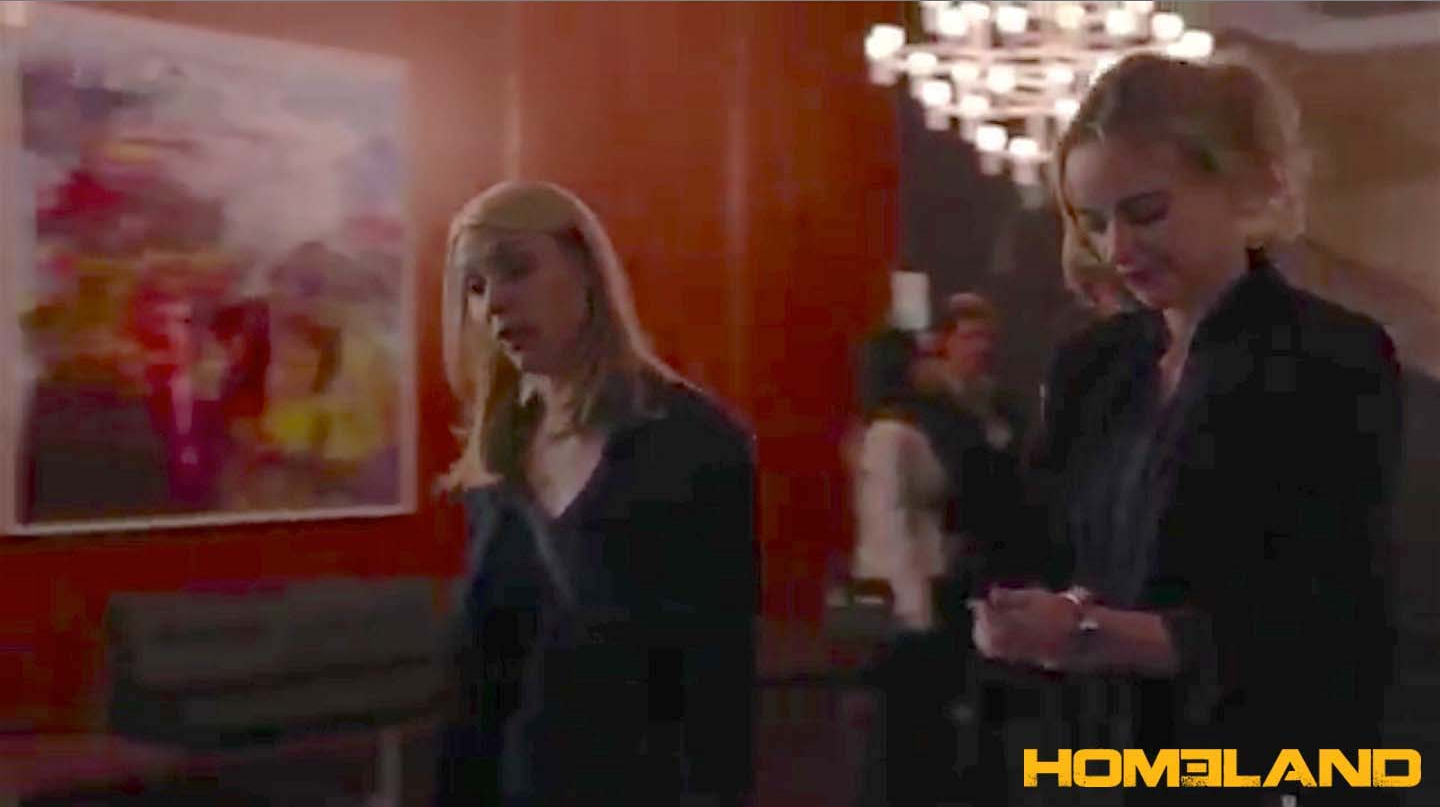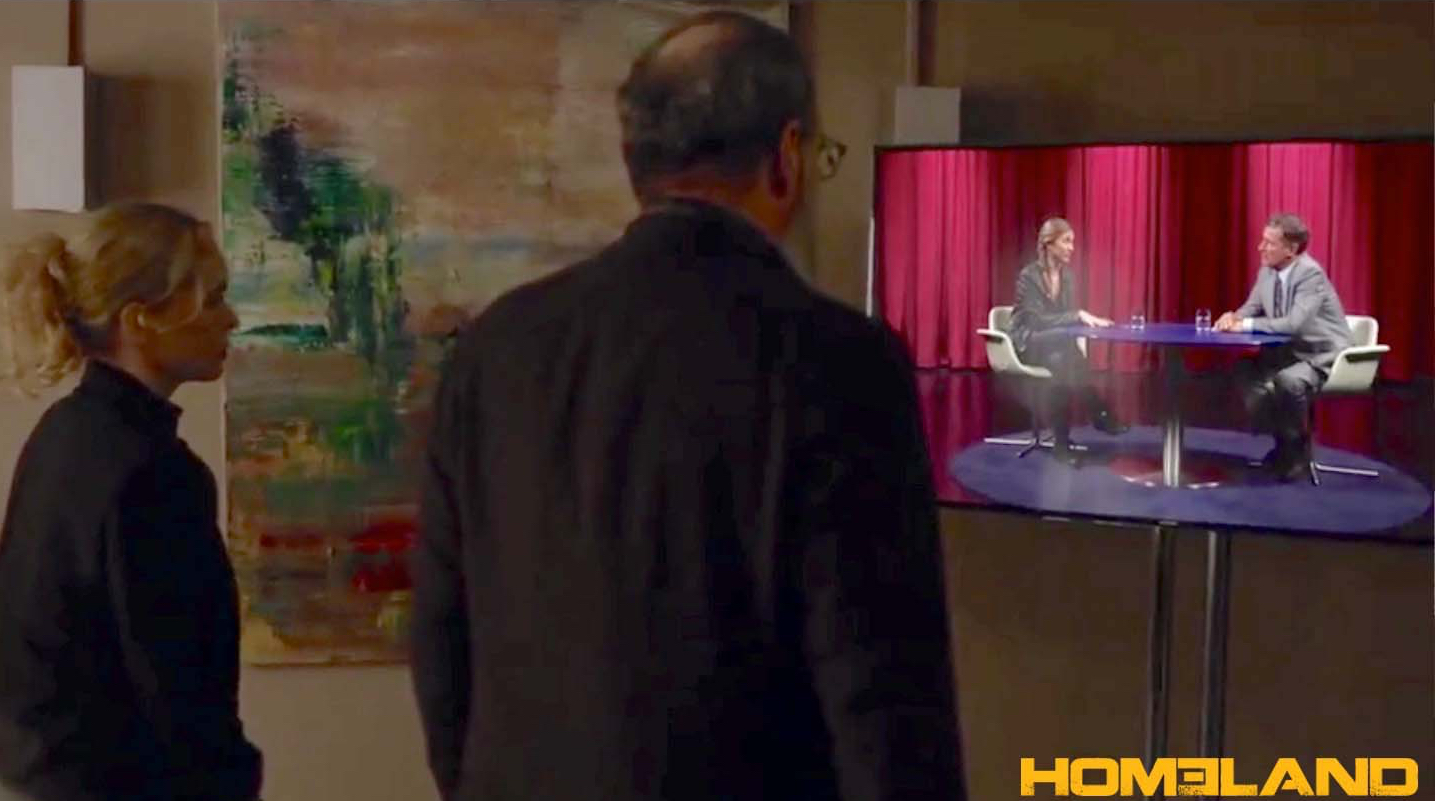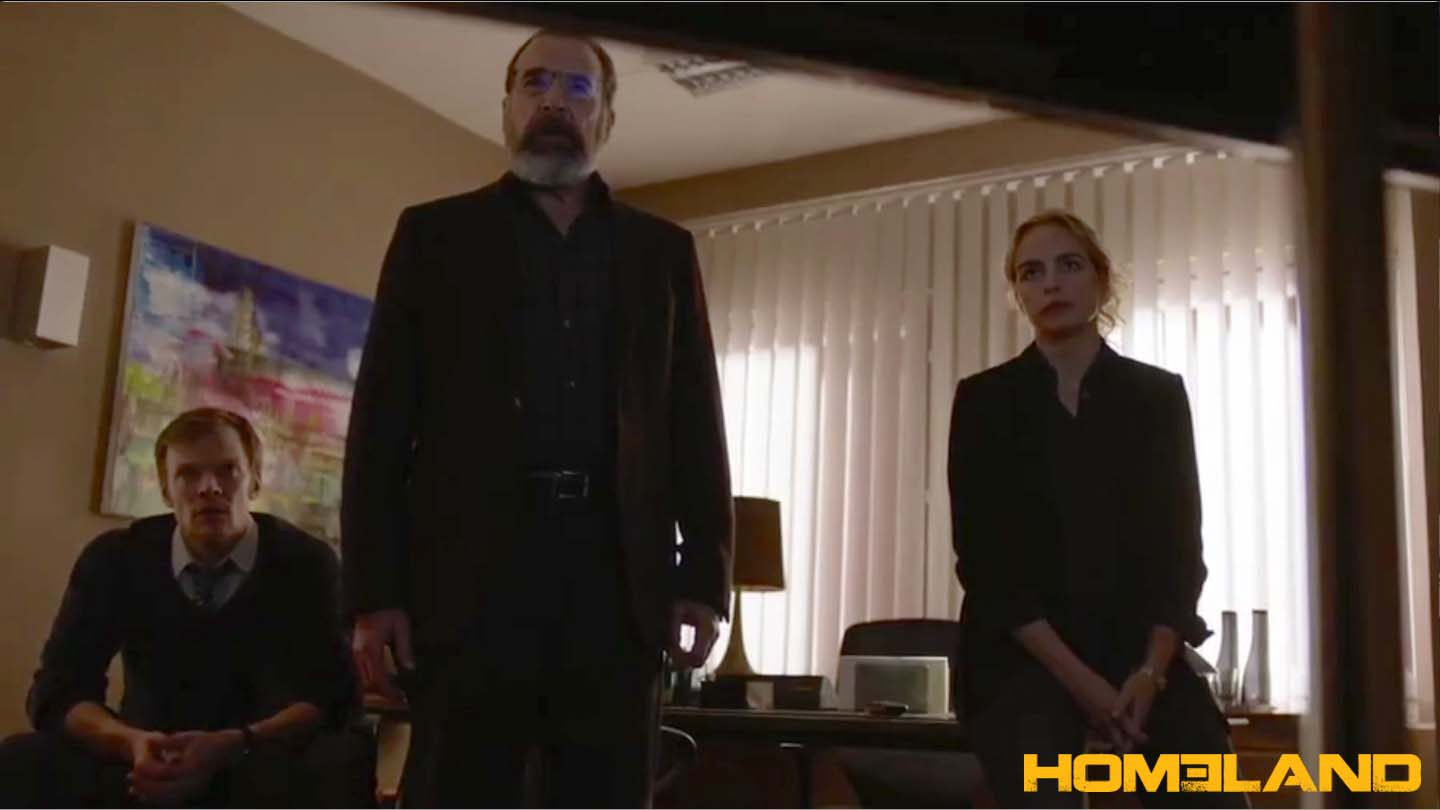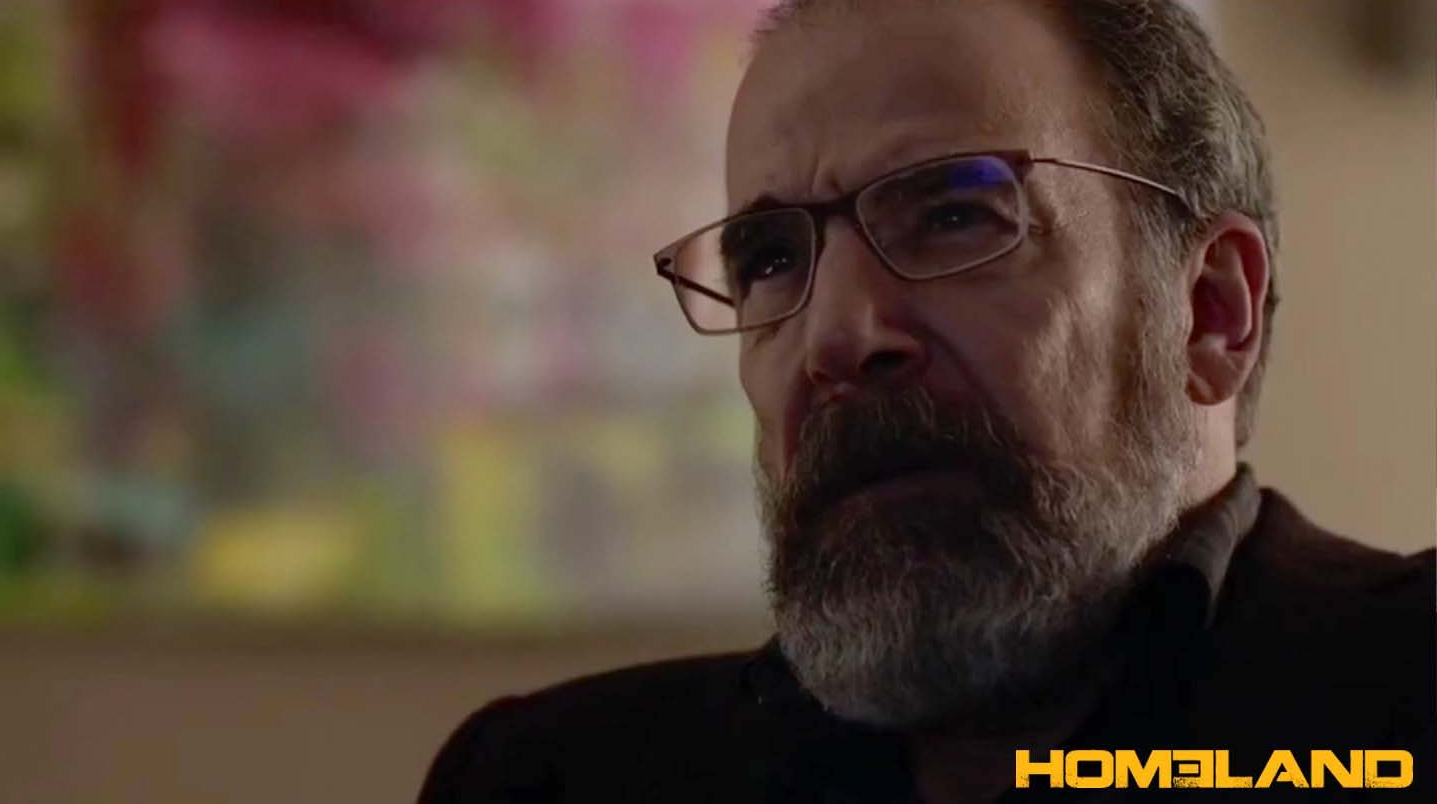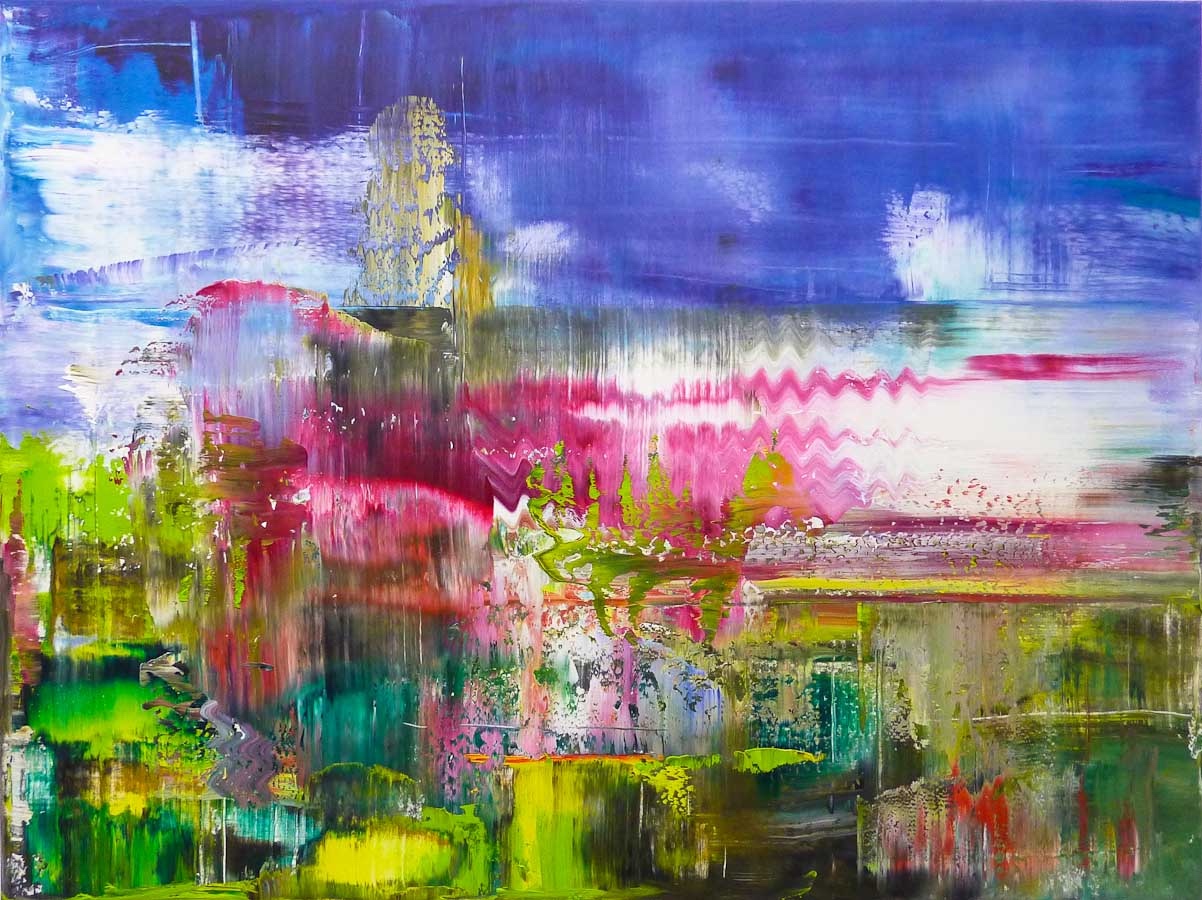 Claus Brunsmann, Ohne Titel, 2015, 91 x 120 cm, Öl auf Leinwand, (private collection)
Paintings that could have made it into movies...
I started a series of portraits featuring charismatic females and thought, they might make it into movies one day.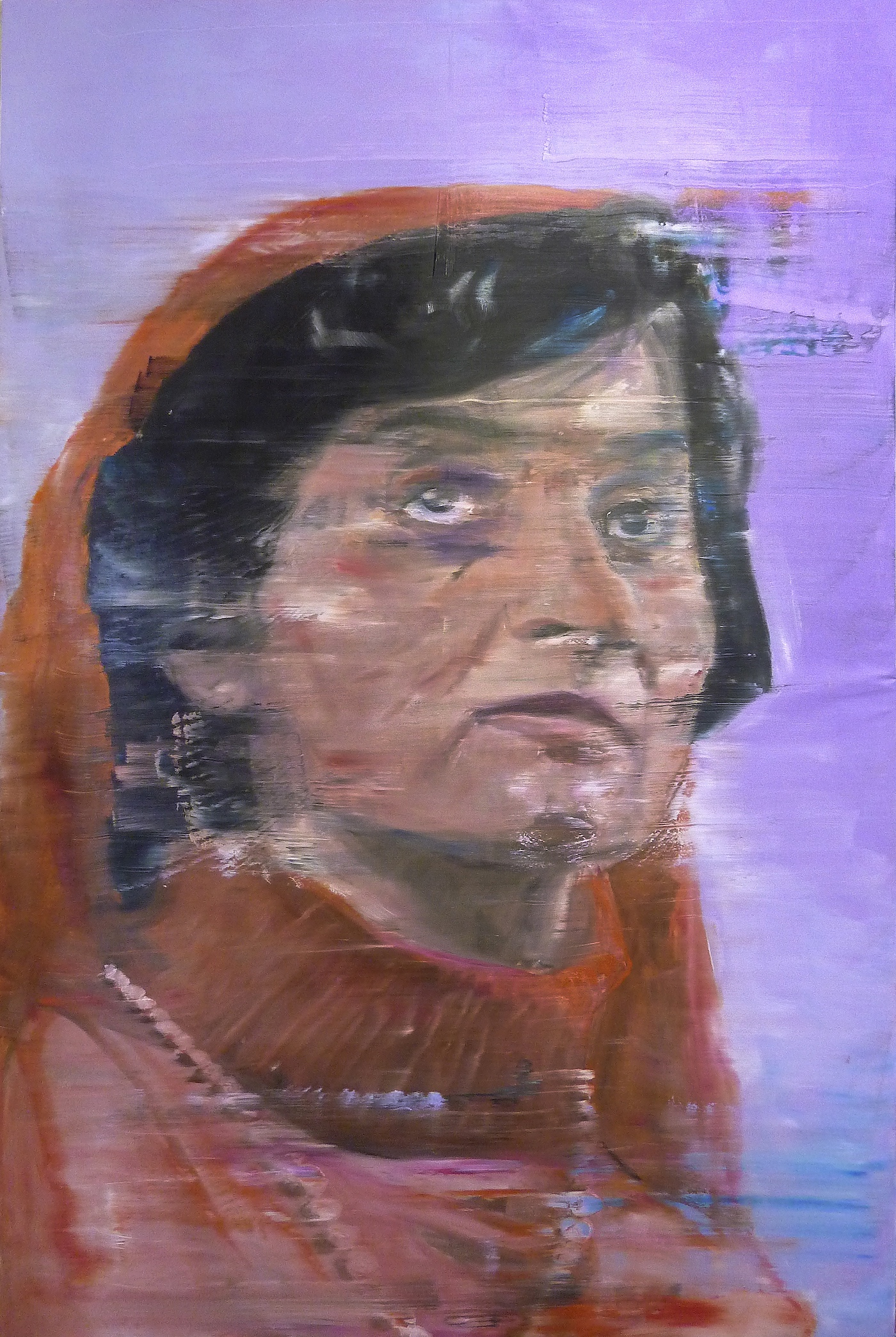 Claus Brunsmann, Ma Anand Sheela, 2018, 300 x 200 cm, oil on canvas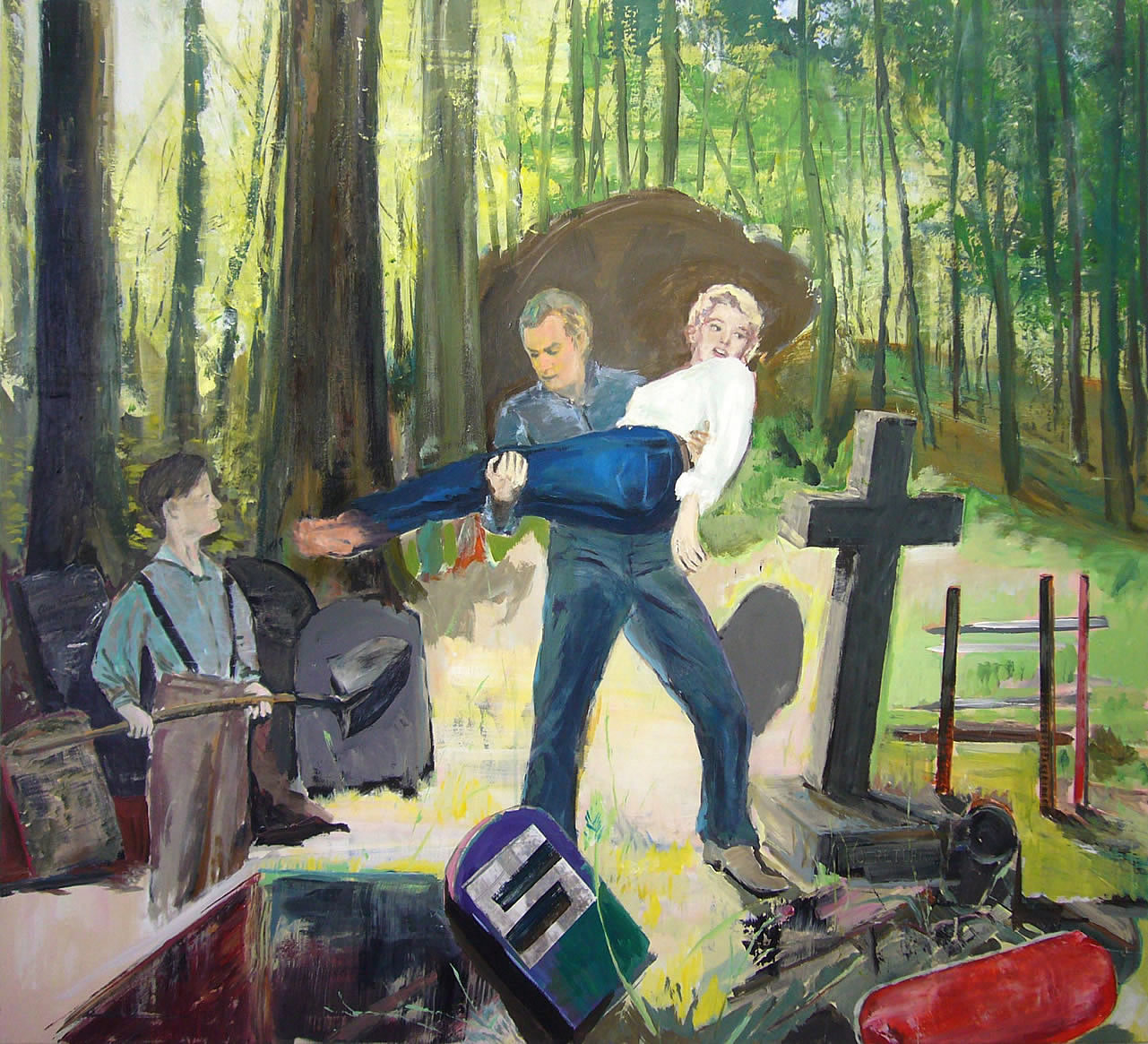 Claus Brunsmann, No return, no return, no return", 2009, 140 x 160 cm, oil on canvas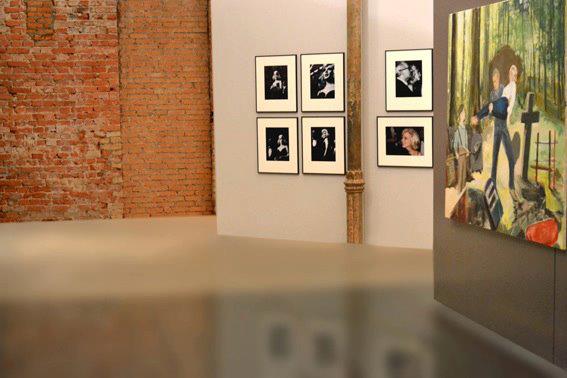 Marilyn in the arts, The National Film Museum, São Paulo, Brazil (from March 1, 2012 to April 1, 2012)