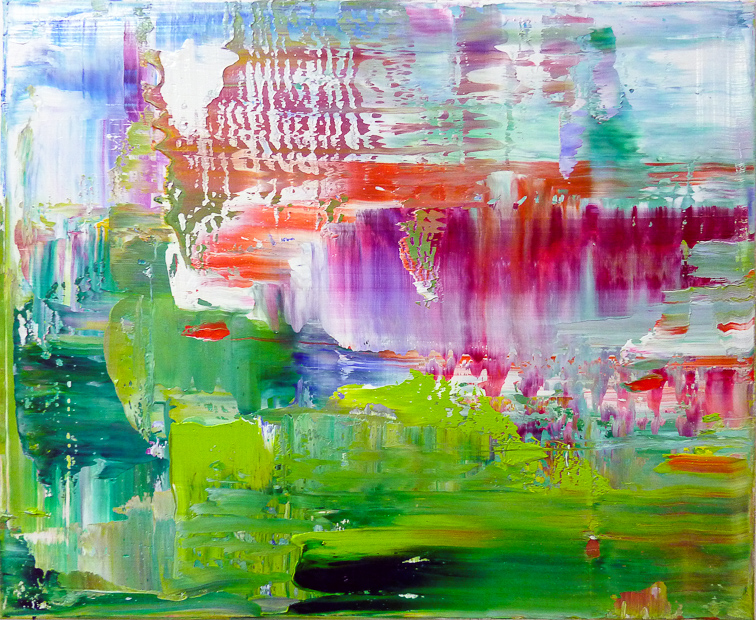 Ohne Titel, 2018, Öl auf Leinwand, 50 x 60 cm
Claus Brunsmanns pictures have a feeling of free material and gestural abstraction. They transmit, with great energy and a particular aesthetic elegance, subjective emotional charge as well as images full of values linked to sublimated and distorted memories of nature.

The quality of this painting emerges with greater clarity exactly when one looks at the various sequences of the pictures as a whole. In this way, one can appreciate the tonal variations, the sensibility of the apparently chaotic gestural movements, the spatial tension determined by skillful chromatic stratifications and the physical impact of the painted surfaces.

Francesco Poli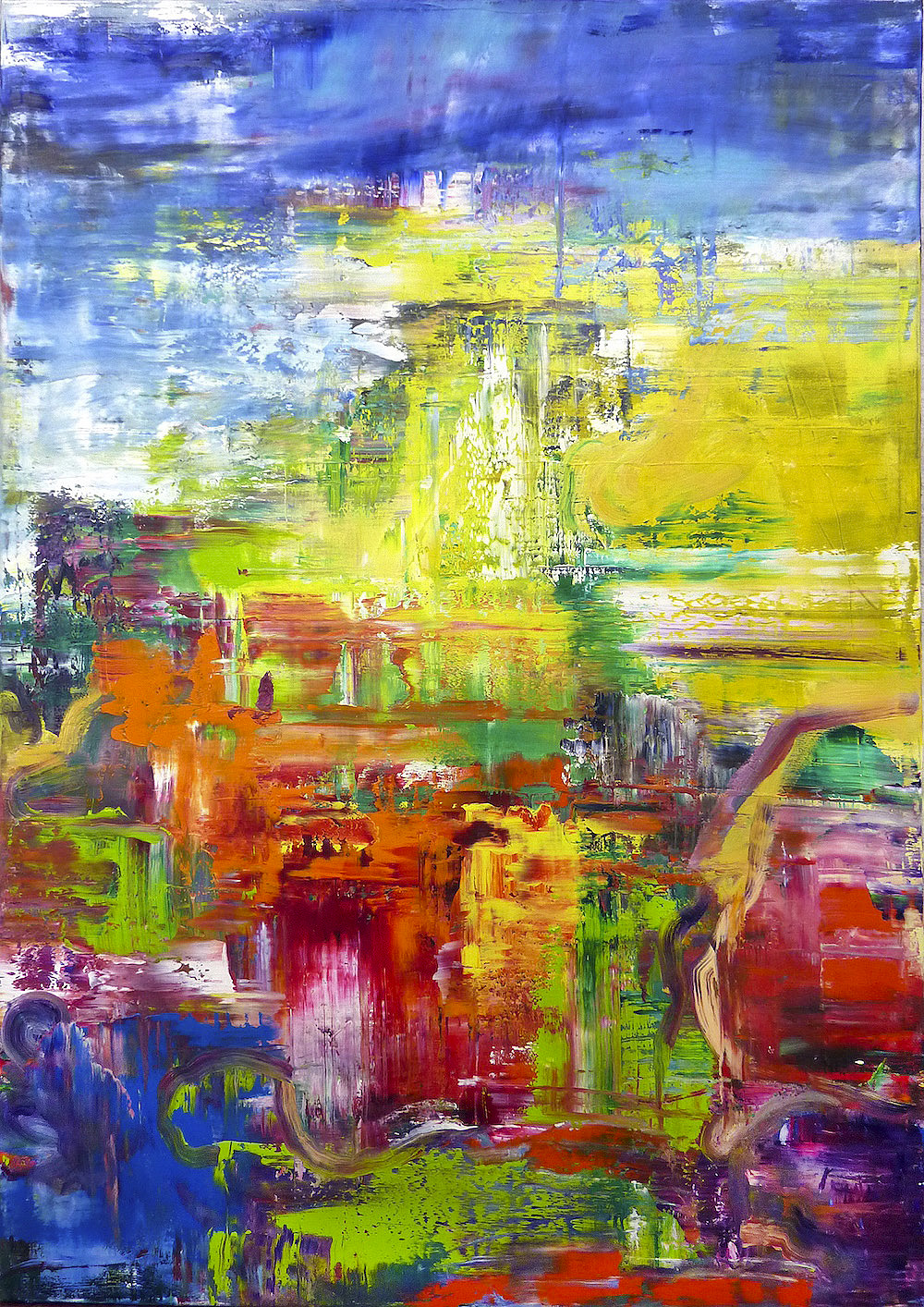 Ohne Titel, 2018, Öl auf Leinwand, 240 x 170 cm (click to open)
| | |
| --- | --- |
| Aktuelle Ausstellungen --> | NEW |
DISTORTED MEMORIES OF NATURE
Claus Brunsmann's works testify to the power of a painting, which aesthetically manufactures, or even invents, the reality in the image. The series of works presented here, all of which were produced between 2001 and 2012 provide a solid panorama of his oeuvre.

--> Kerber Verlag
Claus Brunsmann in 'Meisterschule'
by Marco Meneguzzo
Claus Brunsmann is not afraid of using painting, and a type of painting that could almost be defined as landscape. What is interesting is not so much the erudite reference to Romantic painting right up to the most recent German painters, but the romantic attitude of the artist, who expects the spectator to perform the rite that he himself has already performed, and that involves the absolute confrontation between the self and the canvas, betwenn the will of the subject and the resistance of the object. This is by no means a new theme, but is not "old" either: this is why it is a question of the absolute, of a challenge that is repeated eternally in the same terms as at the beginning and that cannot be exhausted in the history of art, however much the history of art has attempted to wear out the theme of the painter and the blank canvas. Ultimately - to paraphrase Balzac - a masterpiece can even remain unknown, because success is not the purpose of painting.
--> selected available abstract paintings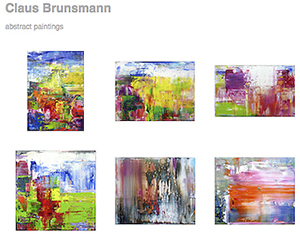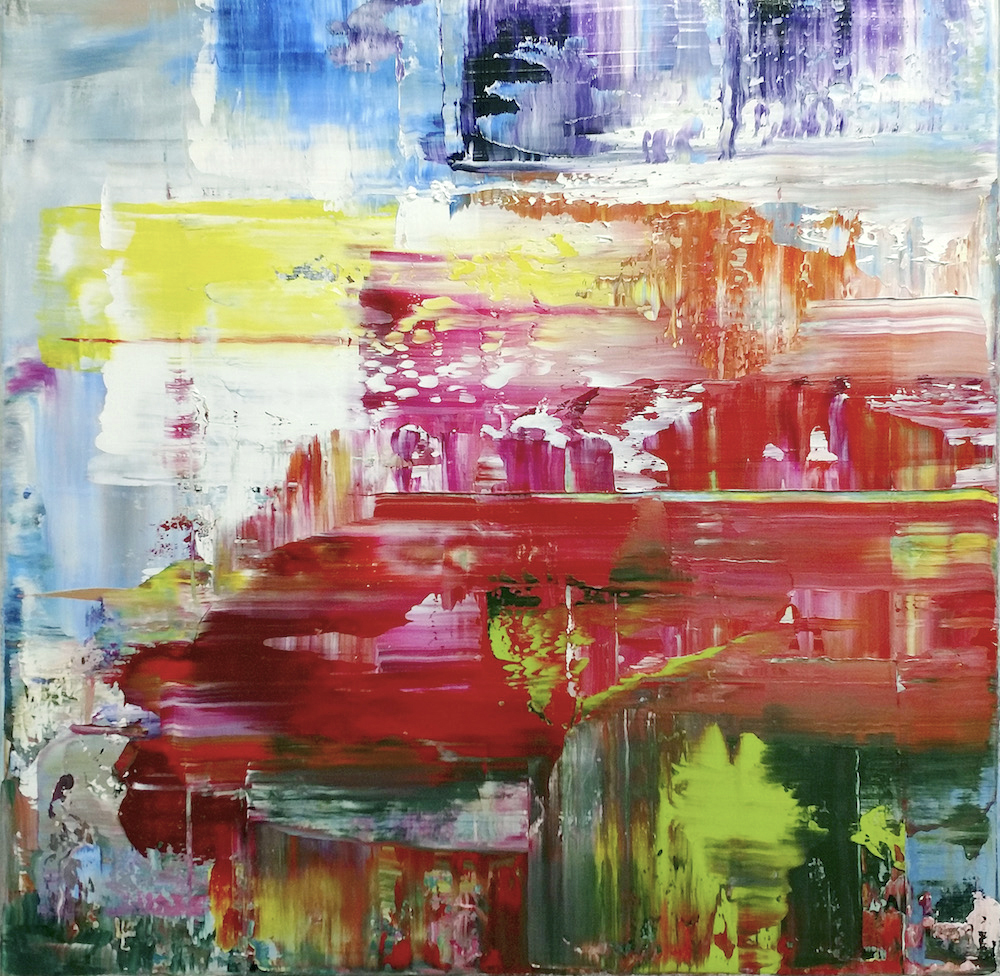 Ohne Titel, 2018, Öl auf Leinwand, 80 x 80 cm (click image /Bild anklicken)
DISTORTED MEMORIES OF NATURE
Claus Brunsmanns Werk oszilliert zwischen figurativer und abstrakter Darstellung und deckt ein breites Spektrum an Form und Inhalt ab. Die Gemälde zeichnen sich durch eine vielschichtige Behandlung des Mediums und seiner Tradition aus und sind tief verwurzelt in der Kunstgeschichte. Gleichzeitig öffnen sie traditionelle Bildvorstellungen zu ungewohnten Interpretationen und Möglichkeiten, moderne Medien zu sehen.

Claus Brunsmanns Werke bezeugen die Kraft einer Malerei, welche die Wirklichkeit im Bild ästhetisch herstellt und neu erfindet.
Claus Brunsmann's work oscillates between figurative and abstract art and covers a broad range of form and content. The paintings are characterised by a multi-layered penetration of the medium and its tradition and are deeply rooted in the history of art. At the same time, they open up traditional imagery to unfamiliar interpretations and ways of seeing modern media.
Claus Brunsmann's works testify to the power of a painting, which aesthetically manufactures, or even invents, the reality in the image.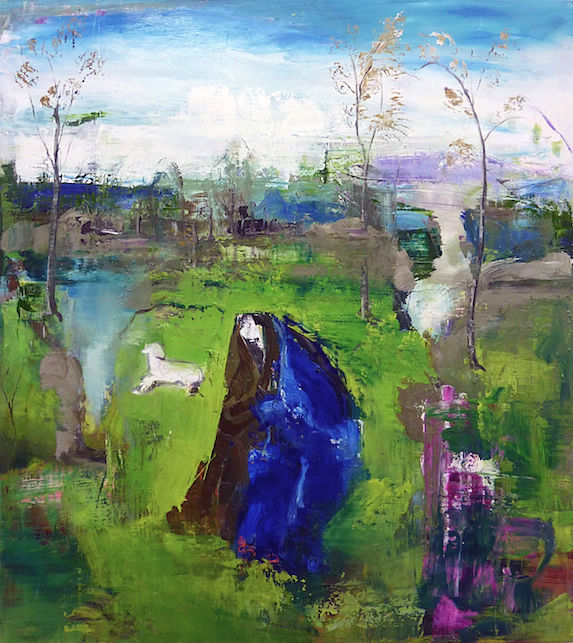 Berliner Katarakt, 2010, 130 x 115 cm, Oil / Canvas
KATARAKT, 2007-2010
Katarakt steigt tiefer in die Geschichte des Sehens ab, geht zurück bis hinter den Moment, in dem die Landschaft als ein Gegenstand der Malerei erscheint: Der Zyklus baut einen Dialog auf mit den Heiligenbildern, wie sie in der Malerei der frühen Renaissance erscheinen – die Katarakt-Motive nehmen Piero della Francescas Bild des Heiligen Hieronymus auf, die Johannes-Motive beziehen sich auf das Bild des Täufers in der Einöde von Geertgen tot Sint Jans. Katarakt zitiert die alten Heiligenbilder nicht, übernimmt sie nicht in einen neuen Kontext, sondern übersetzt sie – die imaginär festgelegte Figur wird geöffnet, defiguriert.
--> weiterlesen
KATARAKT, 2007-2010
Katarakt delves deeper into the history of seeing, going back to a point before landscape appeared as a subject of painting. The cycle develops a dialog with paintings of saints, as these appear in the early Renaissance – the Katarakt motifs take up Piero della Francesca's painting of Saint Jerome, and the St. John motifs are related to the picture of the Baptist in the wilderness by Geertgen tot Sint Jans. Katarakt does not quote the old painting of the saints nor does it place them into a new context. Instead it translates them – the imaginary predefined figure is opened up and dismantled.
--> read more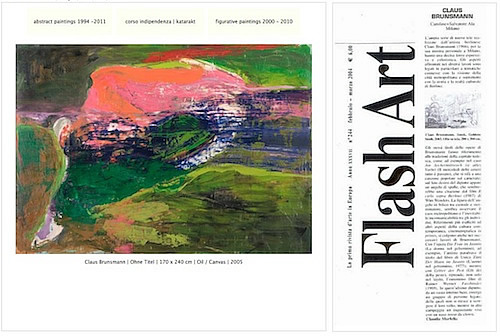 Claus Brunsmann IDOLE, UNTOTE UND WIEDERGÄNGER (Figurative Bilder 2009-2012)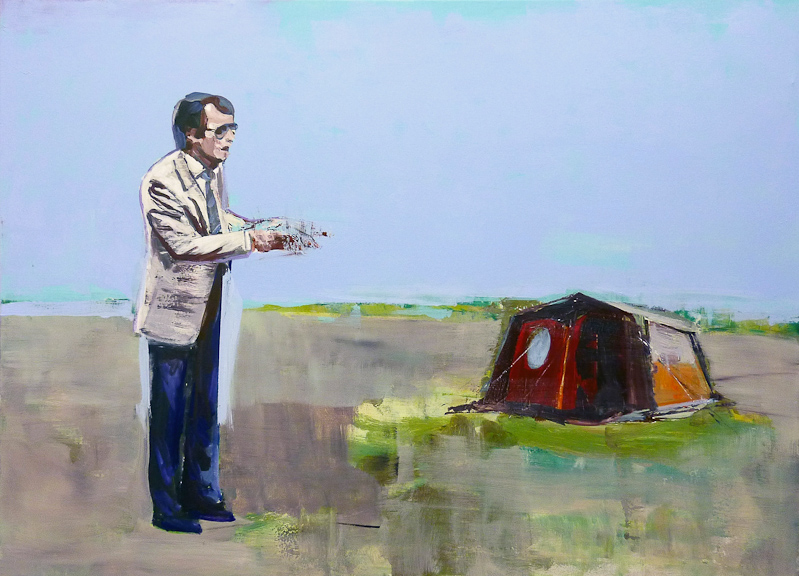 Service, 2011, Liquitex auf Leinwand / acrylic on canvas, 110 x 145 cm
IDOLE, UNTOTE UND WIEDERGÄNGER
In diesem Zyklus beschäftigt sich der Künstler mit der Frage, inwieweit Illusion und Realität überhaupt voneinander trennbar sind. Es sind Bilder, die sich mit dem Erinnern auseinandersetzen und von den Fragen und der Fragwürdigkeit einer erinnerten Wirklichkeit handeln.
--> weiterlesen
IDOLS, UNDEADS AND REVENANTS
With this cycle the artist deals with the question of the extent to which, or even whether, illusion and reality can be separated from one another. These are paintings that grapple with memory and deal with the question and questionability of a remembered reality.
--> read more
--> IDOLE, UNTOTE, WIEDERGÄNGER / Adobe FLASH gallery